Great Guana Cay: Friends of the Abaco Restaurant and Bahama Bar
We get by with a little help from our friends outside Great Guana Cay, mon. For a successful, Abaco restaurant and Bahama bar, we need all the help we can get.
Our friends also seem to like our Abaco restaurant and Bahama bar here on Great Guana Cay. We tink it may be a little too much, mon.
But we like our friends here on Great Guana Cay and thank them for helping us. It also helps you to help our friends, so when youre thinking about Great Guana Cay, think about them, too.
Transportation
Service from Sanford, Daytona and Melbourne, Florida
Albury's Ferry

Donna Sands Cottage Rentals
Boat Rentals
www.abacodoradoboatrentals.com
The Moorings Yacht Charters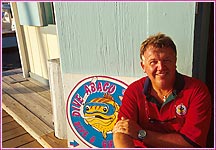 General Information
Fishing Guide
Vasilaros Legal, LLC
Tel-Tron, Inc.
Bakers Bay